Unlimited access to :
An exceptional ski area, with a vertical drop of 2,000m, to be enjoyed without moderation.
Summer and winter access, whithout limitations.
Night skiing.
Reduced rates at Les Bergers sledge on rails
More than 135 days' skiing in Alpe d'Huez grand domaine Ski.
Access to the cross-country skiing area.
17 ski days free this winter in the other Grande Galaxie resorts.
 
Summer
Do you like walking? Take a walk around the lakes at an altitude of 2,100m and go up to Pic Blanc to admire the amazing panoramic view!
1,450m – 3,330m: walk, breathe, admire!
Or do you prefer mountain biking? The area has 250km of MTB trails! 3,330m – 1,450m: ride, whizz down!
35 marked routes: 14 permanent DH, 10 enduro routes (100km) and 11 XS routes (136km)
Reduced rates at Les Bergers sledge on rails
Annual pass (winter 19/20 + summer 20)
Date de début de validité : 30/11/2019*
Date de fin de validité : 30/08/2020*

Adulte 13/64 ans

Enfant 5/12 ans
Senior 65/71 ans

Buy before 15/11/2019 (1)
Grand senior over 72 yrs annual pass 2019/2020 – Available from sales desks only
Grand senior over 72 yrs annual pass 2019/2020
Valid from : 30/11/2019*
Valid until : 30/08/2020*

+ €2 for the purchase of a skipass card
Forfait année hiver 19-20 et été 20 - 1er achat & rechargement
Forfait année été 19 et hiver 19-20 - 1er achat & rechargement
Advantages of the skipass
Tomorrowland Winter
* Festival Tomorrowland Winter: du 14 au 21 mars, l'accès sera réservé aux détenteurs d'un pass de 4 ou 7 jours.À l'achat d'un pass annuel, vous pouvez obtenir un pass festival Tomorrowland au tarif préférentiel de 365 € jusqu'au 30 septembre, puis de 465 € à compter du 1er octobre.
Luge sur rails
Vous obtenez 10% de réduction sur les packs 5/10/20 descentes de la luge des bergers (sur rail) sur présentation du forfait de ski alpin en cours de validité.
Ski de nuit
Tous les jeudis (et les mardis des vacances scolaires françaises), du 23/12/2019 au 06/02/2020 jusqu'à 19h30 et du 11/02/2020 au 16/03/2020 jusqu'à 20h
Grande Galaxie
du 21 décembre 2019 au 16 mars 2020 et du 21 mars au 10 avril 2020. Forfait minimum 6 jours acheté : Les 2 Alpes (2 jours), Serre Chevalier (1 jour), Puy St Vincent (1 jour), Voie Lactée Italienne (1 jour) Montgenèvre (1 jour)
La Grave
Vous obtenez 25% de réduction sur le forfait journée à La Grave. Un spot exceptionnel hors piste pour des skieurs et freeriders expérimentés. Un site authentique classé parmi les plus beaux villages de France. Valide du 21/12/19 au 26/04/20
For an extra €25 per person for 6 days, benefit from the advantages of our Loisirs + pass

More unlimited activities
Unlimited access for pass holders to the leisure and sporting activities of the Alpe d'Huez sports centre: Heated outdoor pool, indoor pool, ice rinks (including skate hire), crazy golf; table tennis (including bat hire); weight training (over 16 years)
Skiez en toute sérénité, skiez assuré !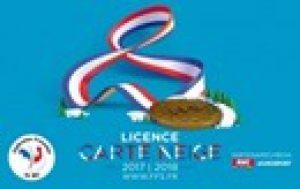 Les garanties proposées aux Licenciés sont acquises en cas d'accident corporel survenant dans le monde entier, du fait de la pratique en amateur :
Garanties d'assurance (Option Loisirs)
Tarif Individuel : 63 €*
Ne partez pas skier sans être bien assuré !
TARIF :
3€ par jour et par personne avec Assur'Glisse
Tarif TTC : Selon le taux de TVA en vigueur au 1er janvier de l'année en cours.