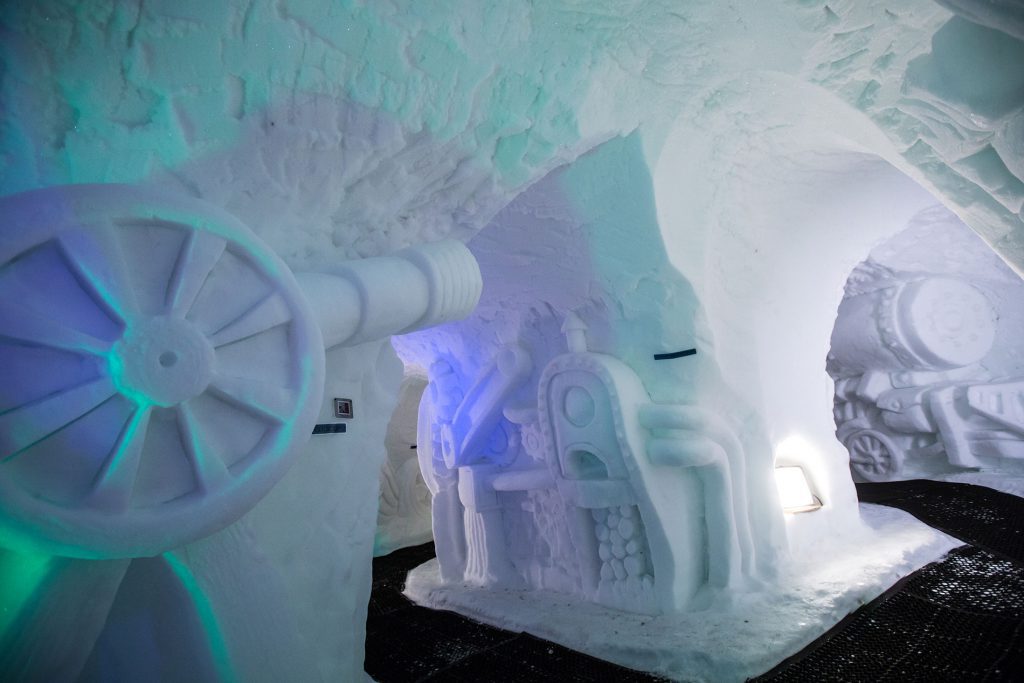 At 2,700m at the Lac Blanc 2700 meeting point, the ice cave is dug into the snow by 2 high mountain guides, Bruno Gardent and Bernard Lambolez. Ice art sculptors bring the cave to life with a different theme every winter.
2022/2023 theme : Ancient Egypt
Dates: Every day from 3 December 2022, subject to snow conditions.
Opening hours: 9am-4.45pm
Pedestrian access: DMC 1 + 2 from Alpe d'Huez – DMC 1800If you already have a valid lift pass:
Tickets on sale on site*
€6.00 for adults over 13 years
€5.00 for children under 13 years
Pedestrians only:
Tickets on sale at SATA sales desks:
Day lift pass + ice cave entry
€25.50 for adults over 13 years
€22.50 for children under 13 years
*Does not accept credit card payments

An accessible leisure activity!
A total of 5 hiking trails, each one more incredible than the other, have just been created in the Alpe d'Huez ski area.
Accessible during the opening hours of the ski area, these itineraries are marked out by signs and purple milestones. The departure is marked by a banner and a sign. The descent is done by the open alpine ski runs, located nearby. Neither groomed nor maintained, these itineraries are freely accessible and under the full responsibility of the skier.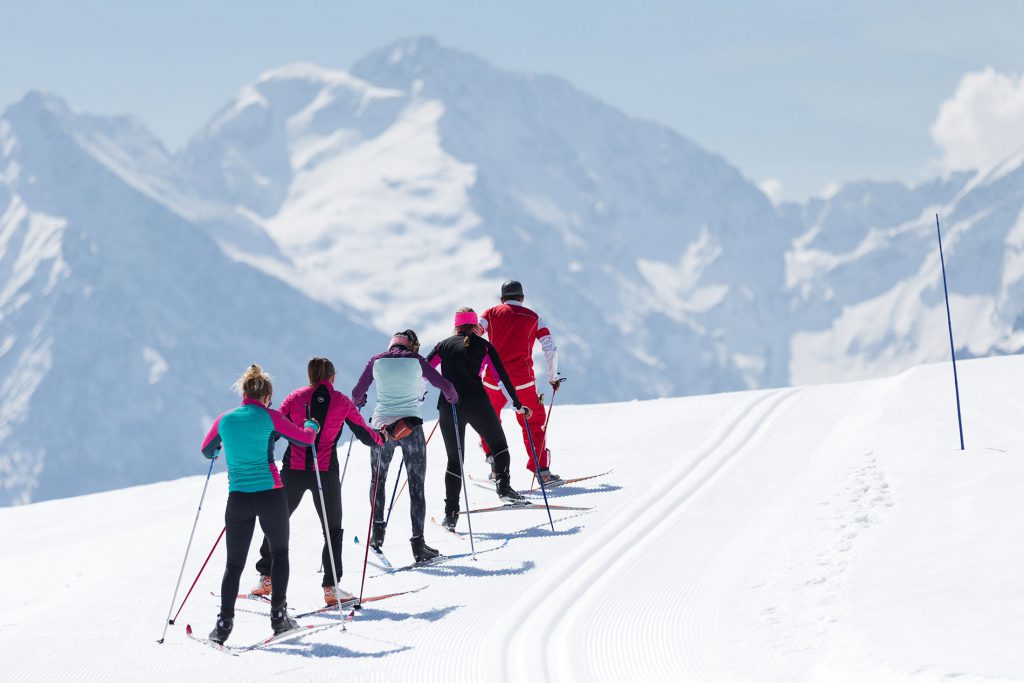 Walks and cross country ski
Do not remain at the foot of the ski slopes
Not a skier?
Alpe d'Huez thought of you!
35 km of pedestrian slopes for excursions on foot or snowshoeing with or without a guide:
Slopes are marked and punctuated with benches to enjoy the beautiful view!
Buy your pedestrian pass
With 6 loops (blue and red) and 55 km of slopes, Alpe d'Huez offers a cross country area varied for all levels and techniques (skating or alternative).
Guided tour of Pic Blanc or the ice cave if the weather is bad
Take the cable car up to an altitude of 3,330m and enjoy an exceptional panoramic view, classed 3-star by the Michelin guide.
During the 2-hour visit, you will learn more about the resort's history, the walks and ski slopes, local geology, the landscape, wildlife and more.
– Price: €23.00 including 1 return journey to Pic Blanc, the guided tour and access to the ice cave at 2,700m
– When: Tuesdays and Thursdays, 10.30am. (Wednesdays for the tour in English)
– Meeting point: The guide will be waiting for participants in front of the Alpe d'Huez DMC 1800 sales desk, 15 minutes before the departure time, with a "Guided tour" sign.
Depending on weather conditions and ski lift opening, the visit may be limited to the 2,700m station and a visit of the ice cave.
Available from the sales desks only
If you already have a lift pass: surcharge of €10.00 upon presentation of your valid pass
Under 5 y/o and over 72 y/o: €10.50
For more information:
Contact Alpe d'Huez tourist office on +33 (0) 476 11 44 44 or the museum on +33 (0)476 11 21 74