GOOD PLANS FOR THIS SUMMER 2023 !
A whole day of fun in Alpe d'Huez!
Magical mountain moments to relish with the family! Whether you are alone or with a group, we propose access to the entire Alpe d'Huez area so that you can make the most of our vast open spaces and luxurious vegetation.
Bike Parks, MTB, contemplative hikes with an incredible view over the entire mountain area from the top of Pic Blanc…
Add a fun activity of your choice. Feeling the need to cool down? Head to the outdoor pool… Or perhaps you are looking for a bit more excitement? Why not try the ice rink or even the sledge on rails!

Enjoy a mountain of activities in Alpe d'Huez!
Whether you are on foot or on your bike, we have an option to suit! The Liberté Pass includes unlimited access to a wide range of activities in the resort as well as in the mountain area. Access to the Palais des Sports and all its indoor and outdoor activities (fitness, climbing, basketball, etc.). Full use of the lifts as a pedestrian or with your mountain bike. Not forgetting discounts on the supervised and cultural activities proposed in Alpe d'Huez, such as Yoga at Pic Blanc.
Take a walk around the lakes at an altitude of 2,100m and go up to Pic Blanc to admire the amazing panoramic view! From 1,450m to 3,330m: walk, breathe, admire!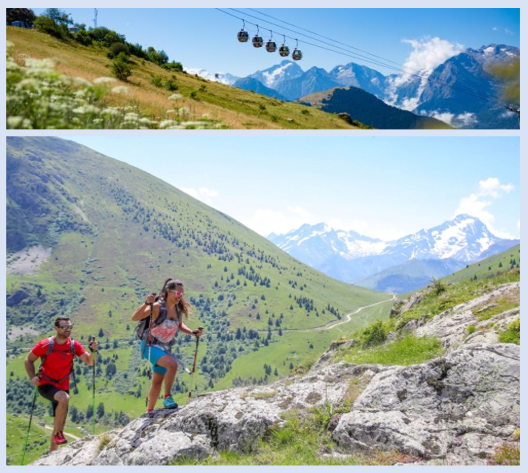 All the fresh air and wide-open spaces you could wish for!
Make the most of all the mountains have to offer and relish your freedom in the great outdoors! An exceptional area, breathtaking views and plenty of discovery circuits for creating beautiful memories with your family.
Would you like to explore the vast Alpe d'Huez area? Admire magnificent panoramic views, climb to the heights of Pic Blanc, or visit the authentic villages around Alpe d'Huez.
The Exploration Pass is made for you, and we propose a wide range of different packages with daily itineraries to reveal all the legendary sites of Alpe d'Huez at your own pace!
EXCLUSIVE ACTIVITIES FOR SUMMER 2023 !
Safe sensations for everyone, all year round!
New this summer: comfortably seated on a large inflatable ring, get ready for our new Tubing sensation – thrills and fun to be enjoyed with family and friends. Our added benefit: the starting line is large enough for up to 6 rings at the same time. Who will be the first to reach the bottom of the slope and win the race?
What are you waiting for? Jump on the inflatable ring, by yourself or with others, and skim down the slopes at top speed!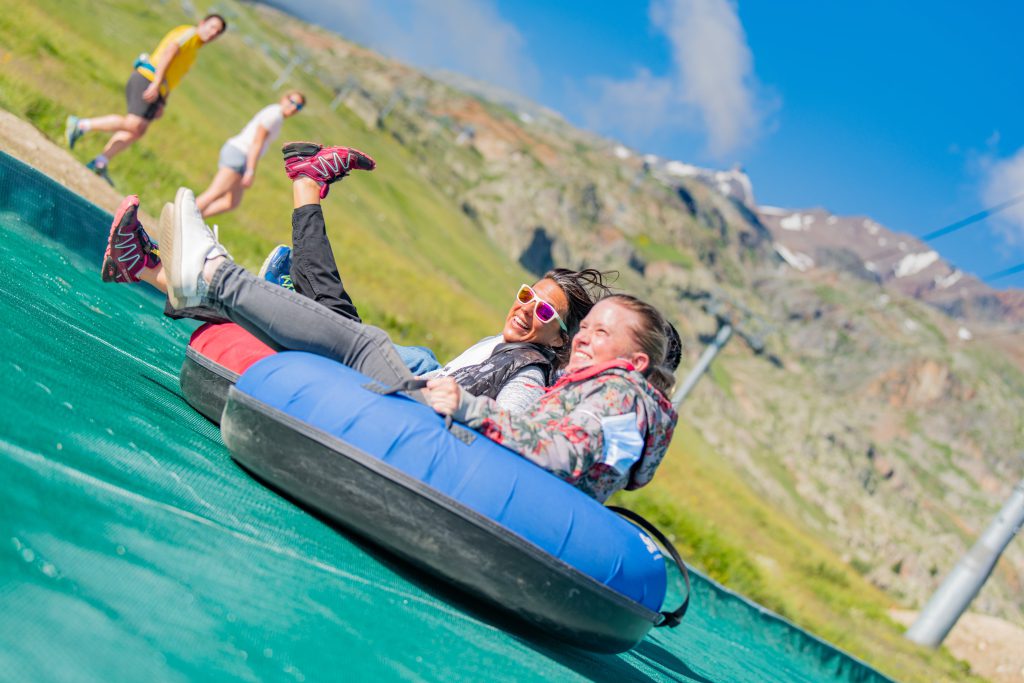 Set out for Pic Blanc (3,300m) for a resourcing session of Yoga in breathtaking surroundings!
2 experienced Yoga instructors propose Yoga sessions at very top of Alpe d'Huez. Improve your self-awareness, both physical and mental, and release all that pressure, surrounded by magnificent panoramic landscapes of Pic Blanc.
Sessions every Tuesday and Friday morning, leaving at 9:30am from the DMC lift. Each 45-minute session is followed by a hot drink to allow you to take a contemplative break before heading back down to the resort!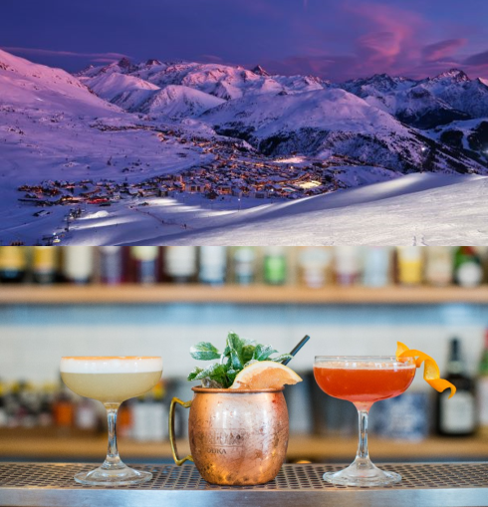 Lounge bar and tapas in the mountains!
Take the lifts to the top of Signal for an unforgettable sunset evening. Relax in the cosy, welcoming atmosphere of the restaurant at the top of Signal.
You will be served an aperitif comprising a drink and tapas made with local produce to guarantee exceptional quality. Background music to set the mood for optimal enjoyment.
The lifts to the top of Signal run from 6:30pm to 9:30pm, which leaves plenty of time for you to drink in the magnificent panoramic view of the resort!
Take a sensational ride with your family or friends!
Every Saturday evening, from 6pm to 8.30pm, extend the day with a new sledging evening. Enjoy the entertainment, children's games and a snack area to share a convivial moment! On the programme, changes of rhythm, accelerations, all punctuated by jumps, rhythmic sequences of waves, chicanes and flip-flaps. For the most sensitive souls, this two-seater sled is the stage for a light and fast descent. An adventure for two! Translated with www.DeepL.com/Translator (free version)